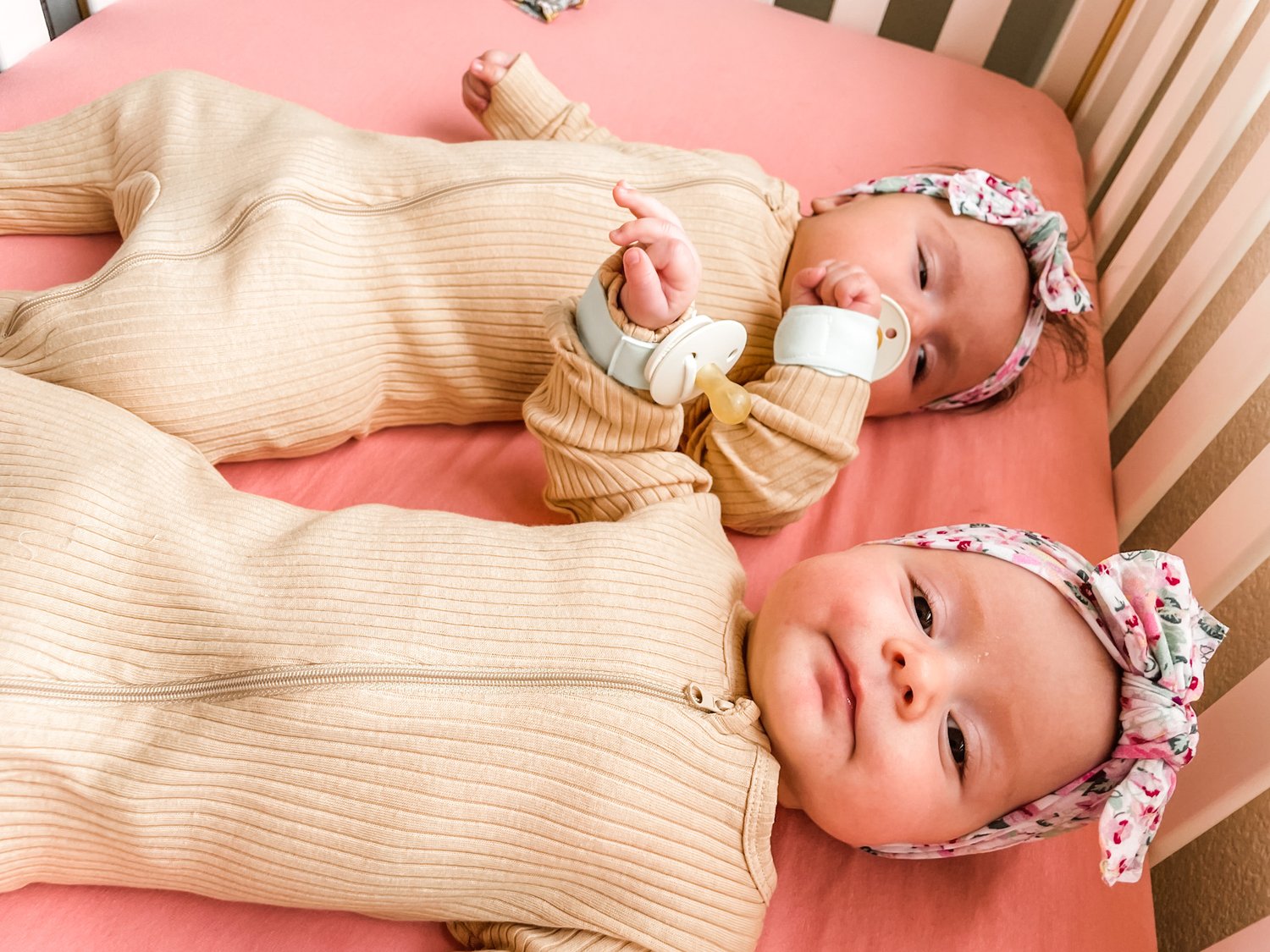 How to Find the Right Pacifier
Finding the right infant pacifier for your baby can be as difficult as buying a car. Regardless of your baby's paci-preference, it can attach to the game-changing pacifier wristband & help your baby soothe younger than ever!
Finding the right infant pacifier for your baby can be as difficult as buying a car. There are so many different brands, designs, materials, and prices when it comes to pacifiers! Parents have enough to worry about when it comes to purchasing baby gear, so we hope this guide makes picking a pacifier a little bit easier!
1.     One Piece: Pacifiers with multiple pieces are going to be the cheapest on the market. However, cheaper comes with the cost of safety. A newborn pacifier with multiple pieces can break and become choking hazards instantly. We always recommend paying a couple of extra dollars for peace of mind!
Multiple pieces also make it easier for bacteria to get stuck in places. You are supposed to replace pacifiers frequently, but they should still be sterilized regularly. You want something that is going to be easy to clean and/or something that is dishwasher safe!
2.     Shape: The shape of the shield on pacifiers has different purposes. The round or oversized shield will gently press up against baby's nose. Most breastfed babies will prefer this style as it mimics the soothing feeling of breastfeeding. The butterfly shape is also popular and is preferred by babies who need a little bit more room for their nose to breathe!
3.     Substance: Most pacifiers are made of rubber or silicon. It's important to keep in mind that some babies do have latex allergies! If you haven't introduced a bottle to your baby yet, we would recommend finding a silicon infant pacifier since it's hypoallergenic!
Nipple: The two main nipple shapes are rounded or orthodontic. Rounded nipples tend to be easier for babies to take, but orthodontic nipples support the shape of the developing jaw and palate of the baby. Ultimately, the pacifier is going to be what your baby likes best! You might want to buy 2-3 different kinds of pacifiers to see which one your baby takes to.
4.     Price: More expensive doesn't always mean better. For example, Wubbanubs are adorable pacifier accessories, however, the pacifiers do not detach from the stuffed animal. This poses a problem because pacifiers are supposed to be replaced about every 2 months. Also, if your baby does not prefer the specific style pacifier Wubbanubs come with, they won't ever use it! Wubbanubs cost about $14 so if you aren't looking to spend hundreds of dollars on pacifiers a year, then you're better off with a cheaper option!
Plus, a chief complaint from parents is their infant pacifier keeps falling out of their baby's mouth and gets lost all the time! On average, baby's are still not able to locate a Wubanub and put back into their mouths themselves until 8 months!
If you want to eliminate some of your lost pacifier problems, then you should get an ingy bingy band to go with your pacifier! The good news about choosing a pacifier is that no matter what you choose they will all attach to the ingy bingy band! This pacifier wristband velcros around baby's wrist to help them locate, reinsert their paci and self-soothe from as early as 4 months! Whether you want to call is a pacifier wristband or  pacifier bracelet, it will save you time and frustration because you won't be constantly looking for it when the infant pacifier keeps falling out! Regardless of your baby's paci-preference, this pacifier accessory will save you and baby's sanity!