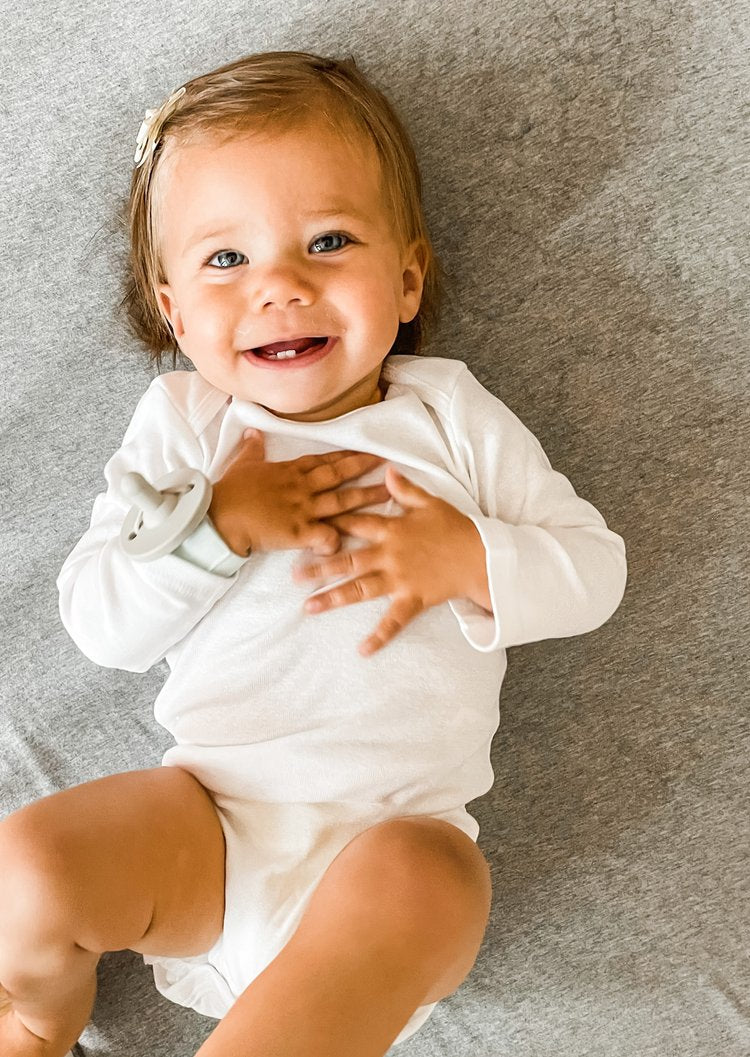 Pacifier Accessories
One of the most frustrating things about an infant pacifier is that they inevitably fall out of baby's mouth. Let's review some accessories to fix that!
One of the most frustrating things about an infant pacifier is that they inevitably fall out of baby's mouth. This would be fine if they didn't also roll under the couch or fall on the wood chips at the park. This makes the a newborn pacifier hard to find and/or very dirty. I don't know about you, but I avoid looking under my couch for fear of all the dust, food, and toys I'll find under there.
Most parents decide to invest in some kind of newborn pacifier accessory to help avoid this problem. Some of the most popular options on the market right now are pacifier clips and stuffed animal pacifiers also called Wubanubs.
The pacifier clips attach to baby's shirt while the other end is attached to the infant pacifier. These come in a variety of very cute colors and styles. Most clips are made with beads that are wooden or silicone and non-toxic, Phthalate & BPA-Free. However, it's important to be aware of the choking hazard this poses.
The United States Consumer Product Safety Commission says "that toys or products with small parts present a choking hazard to children under the age of three. A "small part" can be a whole or piece of a toy or article that "fits completely into a specially designed test cylinder 2.25 inches long by 1.25 inches wide that approximates the size of the fully expanded throat of a child under three years old." The beads on pacifier clips are usually smaller than 1 inch. This doesn't mean you need to avoid pacifier clips altogether, but if you choose to go this route make sure it has beads that are bigger, connected, or a safer shape to reduce the risk of choking!
Many parents are also worried about some form of strangulation with the long strap. Use at your own comfort and consider attaching to areas of the clothing far away from their throats (but also close enough it reaches their mouth).
Wubbanubs are very adorable pacifier accessories and admittedly one of the first things we put on our registry when we had our first child many years ago. This helped us to keep track of the pacifiers much easier and you could usually grab it before it hit the ground! However, the pacifiers do not detach from the stuffed animal. This poses a problem because pacifiers are supposed to be replaced about every 2 months. Wubbanubs cost about $14 so if you are on a budget this is not the best option for you.
The problem many moms experience with both of these options is that their baby still cannot locate the pacifier at the end of the clip or stuffed animal until they are about 8 months old. That's a long-time parents have to own this never-ending task themselves! However, Ingy Bingy has designed the very first pacifier wristband that velcros  around baby's wrist. As a busy mom of three, I have to say it is SO easy to take on and off. It is a safe option for keeping the pacifier close to baby. By about 4 months old they can use it on their very own, relieving me of this nonstop task!  Any pacifier can attach to the ingy bingy band making it easy to replace, clean, and sterilize pacifiers when needed.
In a world of many options and insecurities regarding the safety of our children, you can feel at ease knowing your baby is safe and soothed with the very first pacifier wristband - the ingy bingy band!